What we're doing
We are currently developing a number of free, and commercial, components for Embarcadero Delphi. The component sets will be available in most versions from Delphi 5 to the latest Delphi 10. All the sets will come with comprehensive help texts and demonstration test modules.
We'll be adding to this site in the coming months and we'll have a blog to
Keep you updated with our progress following the principles declared in our 4D logo. Eozoic also supports legacy Delphi projects. Please use the contact details above.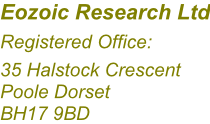 Email: Ian.Taylor@Eozoic.co.uk